Testimonials
Santa Barbara Padel and Tennis
The demo you provided me with was perfect, may need a couple of changes to it to meet the club needs. Your programme seems to be the easiest and user friendly out there at the moment.
Stacey Lee
Hinsdale Park & Recreation
The players love being able to reserve court times themselves. I hardly get any phone reservations at all anymore.
Dept. Secretary
The Grange Squash Club - Edinburgh Scotland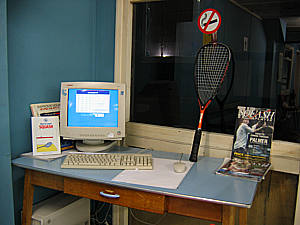 The PeoriaDesignWeb system has been very positive for us. We have 3 courts with 40 min booking slots up to 14 days in advance, all 3 courts time slots are the same. Up to now we had booking sheets and each member was given stamps to be placed on peak time slots as well as signing their name+opponent for all slots . The club is manned but the courts are away from the bar so there was no phone-in booking or cancelling.
PeoriaDesignWeb gave us a demo 1hour-slot system which we trialled during the summer and the members voted it in at AGM. By then, PeoriaDesignWeb had come up with a facsimile copy of our old paper booking system plus password protection. When this went live, the membership was very enthuasiastic. Everyone is booking or cancelling courts from home/work, 24-7.
We have a win2000 PC on our balcony to check bookings at the court. This allows complete security from malicious booking & hacking- win98 doesn't.
PeoriaDesignWeb has now coded a block-booking version which saves a lot of manual entry by the club admin and overcomes the problem with team matches.
This is a major selling point for us- even the big clubs with a receptionist taking booking calls do not offer the convenience of 24-7 online booking that Peoria has provided. Ten years ago I attempted to do this at my alma mater without success - the turnkey solution Peoria provides matches exactly what I envisaged at the time. 99% of our members have Email and web access at work or home. We were about to spend $200 on a print batch of booking sheets, now we use that money on ISP charges and have a much better system - the courts are also much better utilised with not having to physically go to the club to book and also if you change your mind, you just cancel from your PC. One member mentioned another advantage - he can easily check his schedule of matches over the next few days, having forgotten exactly what booking he made weeks ago!
Go for it, boast and drive until you drop, then book online some more!
Christy - (grangesquash at yahoo dot co dot uk) Oct 2004
Sons In Retirement organization - Walnut Creek Branch #8
The Walnut Creek California Branch (#8) of the Sons In Retirement organization (non- profit) has recently begun using Peoria Design Web's online golf reservation system. A few months ago I contacted Faraz Hussain of Peoria Design asking if their online reservation system would work for our golf group. We were very interested in automating our signup process to improve efficiencies and provide better service to our members. Faraz Hussain asked us to use his system on a trial basis to see how we liked it and how well it served our needs. He also offered to make any programming changes necessary to adapt to our requirements making us feel very comfortable that changing to an online system would not disrupt the status quo. Our golf committee has worked closely with Faraz over the past few months working out the kinks that every new application faces. We now have an online system that our members are thrilled with and works exceeding well from both the member's perspective and that of the system administrators.
Peoria Design has gone overboard in making needed fixes on an expedited basis and we now have a first class online tee time reservation system that should work well for almost any organized golf group. In fact, we are about to announce our system to other Branches within the Sons In Retirement Organization so they too may take advantage of this superb system. Our hat is off to Faraz Hussain and Peoria Design.
Gordon Batesole, Handicap Chairman
Sons In Retirement, Branch 8
Walnut Creek, CA
February 4, 2005

Valley Forge Mountain Racquet Club
If we proceed with the site set-up by this weekend, I will begin loading all of our default court-time reservations - before advising the membership of our wonderful new service.
It has been great to work with you. You can add my name to your list of thrilled customers.