About Online Court Scheduling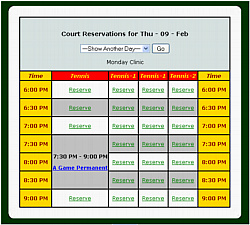 Online reservations software is a web-based program for clients to book services and/or court times (tennis, squash, golf, etc) online. The software can easily be customized for a variety of generic scheduling needs such as for appointments.
The interface is simple to understand and use. My design intent is to make it as easy as possible for even a non-technical user to quickly view and make a court reservation. Therefore, the presentation is stripped down to just the esentials.
The software offers powerful back-end functionality for an administrator. For example, the admin can do advanced tasks like mass bookings and cancellations over multiple courts and days, set up auto-repeating bookings, colorize reservations and search a log report of all useage.
Optional Modules for Class signup
I also offer class registration software for members to sign up for classes online . The system automatically manages a wait-list and moves people up as people cancel.
Customizing the Booking Software
The web software is customizable and it is easy for us to modify it for your needs. I can customize it for scheduling motel room reservations , bowling lanes , restaurant dining reservations etc. As you can see, no two clients use identical versions of the software! The end result is a highly customized software at an affordable price.
Description of Demos
The two demos on the left demonstrate the variety of ways the program can be customized to your scheduling needs. They all use the same software engine. The only difference is certain variables are switched on and off relative to each other.
The simple demo makes it easy and quick for users to schedule a court. They simply type in their name, select time and court and click "Book court".
The secure demo offers the highest level of security in that each user is assigned a unique password to make their online bookings. An administrator is easily able to edit the password file to insert/delete members and assign new passwords.
Security of Reservations
I offer eight levels of security to protect from unintended cancelling of bookings. They are ( in order of increasing security):
Level 1 - Anyone can reserve and cancel any court
Level 2 - Anyone can reserve and cancel any court for which typed name matches displayed name (to prevent someone from accidentally cancelling someone else's court)
Level 3 - Anyone with generic password can reserve and cancel any court
Level 4 - Anyone with generic password can reserve courts but only administrator can cancel courts
Level 5 - Anyone with unique individual password can reserve and cancel their own court only (Names are selected from a drop down menu)
Level 6 - Anyone with unique member ID number can reserve and cancel their own court only
Level 7 - Same as level 5 and 6 but the main reservation page is password protected with a general password. This is to prevent visitors to the website from browsing who is booking what courts.
Level 8 - Same as previous levels but with the option of not displaying the identity of the person making the booking. Their name would be replaced with the generic name "Booked" to prevent visitors from knowing who made the reservation. Their name would become visible when the adminisitrator logs in.
From my experience, most smaller clubs are fine with Level 2 and 3. Some clubs prefer Level 4 if they do not want their clients to cancel courts. Level 5 and above is really for larger clubs with 100+ members.